Amy Goodson, MS, RD, CSSD, LD
Whether you go to the gym a few times a week, jog the neighborhood every morning or are training for a triathlon, proper nutrition is essential for optimal performance, energy levels and recovery. While it is important to fuel and hydrate your body throughout the whole day, knowing what to eat and when to eat around exercise can help you have the energy you need to train and perform your best.
Medjool dates are an excellent source of carbohydrate pre-, during- and post-workout. They can help fuel your exercise routine while also providing your body with other essential nutrients it needs to recover like antioxidants and potassium. Plus, they are a simple, convenient, ready-to-eat snack that you can throw in your gym bag.
---
Pre-workout Fuel
Pre-workout nutrition is focused on fueling and hydrating the body for training and performance.
2 - 4 hours before exercise: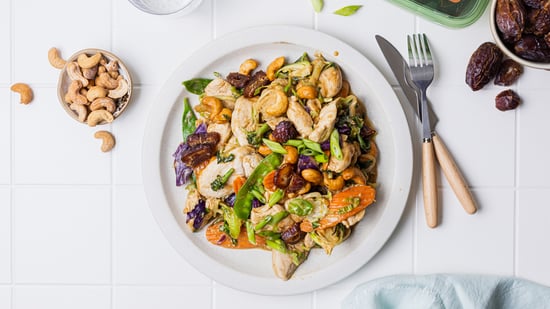 30 minutes - 1 hour pre-workout
---
During-workout Fuel
During exercise, the main focus is to stay hydrated.
Consume 5 -10 ounces of fluid every 15 - 20 minutes of consistent movement
For those exercising 0 - 90 minutes, water should be an appropriate way to hydrate
For those that train longer than 90 minutes, the sports nutrition recommendation is to add 30-60 grams of carbohydrate per hour.
If you are training for a marathon, triathlon or endurance event and know your workout will be multiple hours long, then start fueling with carbohydrates earlier in the training session to help prevent fatigue.
If you have never consumed carbohydrates during exercise, start practicing on long runs and/or rides with approximately 20-25 grams of carbohydrate every 30 minutes.
20 - 30 grams of carbohydrate ideas:

2 dates
1 gel or gu
4-6 energy bites/blocks
1 banana
12-16 ounces sports drink
---
Post-workout Recovery
Post-workout nutrition is focused on recovery. Think of recovery as having 3 R's: Replenish, Rebuild and Rehydrate.
Replenish means you need carbohydrate to replace what was burned off in exercise. Medjool dates are an excellent source of post-workout carbohydrate and can help you replenish your glycogen stores (stored carbohydrate).
Rebuild means you need protein. Exercise causes muscle breakdown and thus requires high-quality protein to help rebuild and repair muscle fibers. The general recommendation is approximately 20 grams of high-quality protein post-workout.
Rehydrate means you need to drink fluid to replace the fluid and electrolytes lost in sweat. The goal is to consume 16 - 24 ounces per pound of fluid lost during exercise or continue to consume fluid until your urine is pale yellow to clear in color.
When and what to eat post-workout
0 - 45 minutes post-workout
The goal is to eat as quickly as you can post-workout, but definitely within 45 minutes. If you can do it faster, then great!
Simple carbohydrate is the best immediately post-workout because it breaks down quickly and promotes recovery at a faster rate.

High-quality protein is essential immediately post-workout because it provides the amino acids necessary to promote repairing muscle fibers. While all proteins can fit in the post-workout snack, whey protein is the quickest digesting protein and naturally contains the highest content of leucine, a branch chain amino acid that independently has been shown to stimulate muscle resynthesis after a workout.

Immediate post-workout snack ideas:

Low-fat chocolate milk

Vanilla Greek yogurt with chopped Medjool dates and water

Protein bar and water

Smoothie made with low-fat milk, whey protein, Medjool dates and banana

2-3 ounces beef or chicken jerky, 2-4 Medjool dates and water
45 minutes - 2 hours post-workout
Follow your post-workout snack with another snack or meal within the 1 - 2 hours.

This meal should contain complex carbohydrates, lean protein, healthy fat, veggies (if appropriate) and fluid.

Post-workout meal ideas: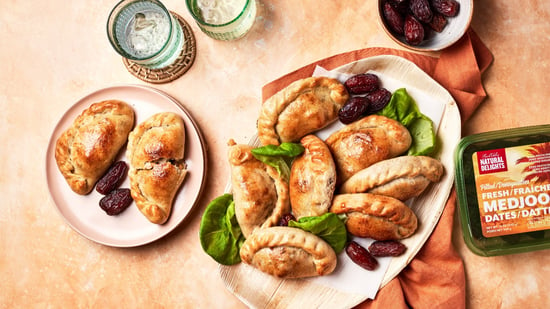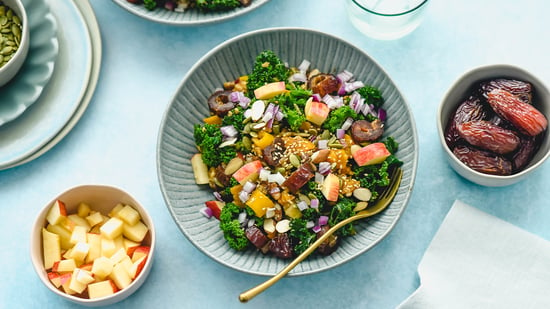 ---
Hydration
Maintaining proper hydration is a key component to your overall health and fitness routine. Water helps your body in a variety of ways including:
Regulating body temperature
Helps lubricate and cushion joints
Helps rid the body of wastes through urination, perspiration and bowel movements
In fact, depending on age, the human body is comprised of 60-80% water, making it essential that you're hydrating continuously.
The general guideline is to consume half your bodyweight (in pounds) in ounces of fluid per day.
Exercise will increase your fluid needs, so a general recommendation is to add an additional five to ten ounces of fluid for every 15 - 20 minutes of consistent activity.
Electrolytes are an essential part of hydration, specifically sodium and potassium. The average person loses three times the amount of sodium in sweat as potassium, and salty sweaters can lose even more. Here are some ways to ensure you are consuming enough electrolytes to support your exercise:
If you exercise longer than 60 - 90 minutes, be sure to consume a sports drink or add electrolytes to your beverage
If it is hot and humid outside, or you train twice a day, add electrolytes to your workout routine at the start of exercise
Add electrolyte rich foods to your diet:

Sodium-rich foods: Add salt to eggs and veggies and consume other salty foods like salted nuts, whole grain crackers and pretzels, pickles, etc.
Potassium-rich foods: Medjool dates, strawberries, bananas, potatoes, sweet potatoes, beans, avocado, milk, yogurt, etc.
---
References
American Dietetic Association, Dietitians of Canada, and the American College of Sports Medicine: Nutrition and Athletic Performance Position Stand. Medicine & Science in Sports & Exercise: March 2016.
Karpinski C and Rosenbloom CA. Sports Nutrition: A Handbook for Professionals, 6th ed.