Jamie Lee McIntyre, MS, RDN
Dietitian & Nutrition Communications Expert at JamieLeeRDN.com
Kids and Added Sugars
Kids love sweet flavors, but the American Academy of Pediatrics recommends aiming for less than 25 grams (about 6 teaspoons) of added sugar per day for children 2 years and older and to avoid serving added sugar to children under 2 years old.1
This is because processed sugars offer sweetness and calories but lack nutrients unlike natural sugars found in fruit.
When using fruits like Medjool dates for added sweetness, you're also getting vitamins and minerals, plus dietary fiber, fulfilling more nutritional needs in the body and providing a gradual and steady release of energy.
Additionally, dates are rich in polyphenols that support antioxidant defenses and aid in cancer prevention.2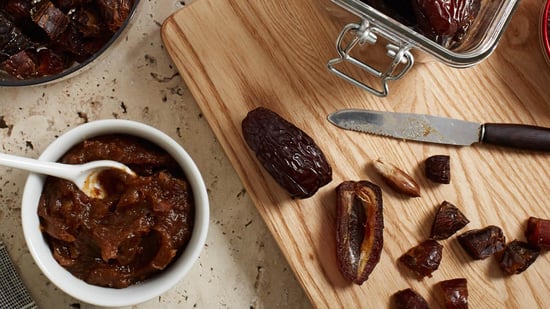 How about a high fiber alternative to refined sugars? Try date paste! It's easy to prepare and can be used as a spread or in baking for a moist and sweet result.
---
The Importance of Fiber in Your Child's Diet
Fiber has shown to support health in several ways (3):
Increases satiety and keeps kids feeling full
Aids in prevention or relief of constipation
Manages cholesterol and helps prevent heart disease and diabetes
Can help lower the chances of getting some types of cancer
Despite the many benefits, most children aren't eating enough. How much daily fiber do kids need (3)?
All Children 1-3 years: 19 grams of fiber per day
All Children 4-8 years: 25 grams of fiber per day
9-13 years: Boys 31 grams of fiber per day; Girls 26 grams of fiber per day
14-18 years: Boys 38 grams of fiber per day; Girls 26 grams of fiber per day
These daily fiber goals may sound like a lot, but there are many healthy and tasty sources of fiber we can include in a varied diet that provide additional phytonutrients, such as:
Fruits and Vegetables
Whole Grains
Nuts and Seeds
Legumes
When increasing fiber in your child's diet, remember to spread it out between multiple meals and snacks (instead of all at once), consume adequate water intake, and fit fiber sources into familiar meals and snacks. Check out tips below!
---
Expanding the Menu: Tips for Promoting Variety and Exploring New Foods
Did you know it can take up to 13 exposures for a child to accept a new food? A child is more likely to accept a new food when they feel a sense of ownership, so engage kids into the planning and prep work by having them:
Create a shopping list and circle items in the store circular
Weigh fruits and vegetables at the store and wash them at home
Try new foods with a familiar food while adults role model healthy eating behaviors for them
Help with recipes like muffins and energy bites with adult supervision and assistance
Preschoolers: Stir batter, add ingredients, "read" and turn pages of recipe
Adolescents: Measure ingredients, cut and chop if age appropriate, select recipes from cookbooks or online database with parental controls, set timers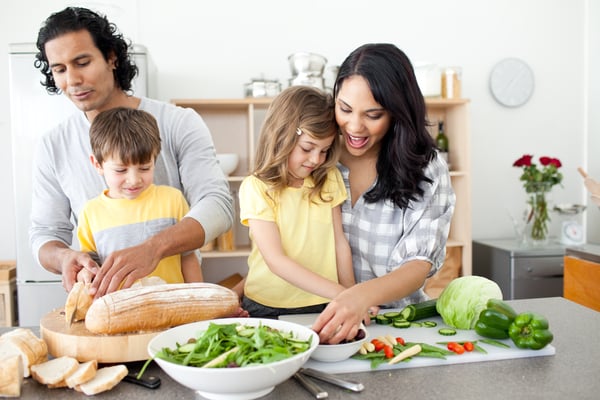 ---
Fuel for School: From the Breakfast Table to the Lunch Box
Nothing halts the momentum of a busy school day like a crash in energy and sudden onset of hunger. Keep growing bodies and brains fueled with the winning combination of complex carbohydrates plus protein and healthy fats for sustained energy all day long!
Make meals and snacks tasty, portable, and easy to eat for the student on the go. Check out the kid-approved recipes below!
Breakfast
Red Velvet smoothie with milk, frozen cherries, banana, dates, and cocoa powder (recipe below)
Snack
Citrus Date Muffins (recipe below) with chocolate milk

Ready-to-eat options like Mini Medjools pack a nutrient punch too

Lunch Box
---
Additional Recipes
Red Velvet Smoothie
Ingredients
8 oz low fat milk or unsweetened non-dairy alternative
1/3 cup pitted frozen cherries
2 Medjool dates
1/3 banana
2 Tbsp unsweetened cocoa powder
½ cup crushed ice
Directions
Add all ingredients to a blender. Blend until smooth throughout. Enjoy immediately.
Citrus Date Muffins
Ingredients
1 orange, peeled
2 Tbsp orange zest
6 dates, chopped
Juice of 1 orange
1 Tbsp lemon juice
1/3 cup canola oil
1/3 cup 1% milk or non-dairy alternative
1 egg
1 tsp pure vanilla extract
1.5 cups Oat flour (can substitute with white whole wheat flour)
2/3 cup date paste
1 tsp baking powder
1 tsp baking soda
1/2 tsp cinnamon
Pinch of salt
½ cup sliced almonds
Directions
Preheat the oven to 400℉ and line 18 muffin cups with paper liners.
Add orange, dates, orange juice and lemon juice to a blend and pulse until segments are fine and blended.
Add in the remaining liquid ingredients, including egg, and pulse to mix.
Transfer the mixture from the blender to a bowl and add the remaining dry ingredients. Mix with a spoon then fold in almonds.
Pour the mixture to fill each muffin liner ¾ full.
Place on the center rack in the oven and bake for 20-25 minutes or until the tops are light golden brown.
Remove from the oven and let it cool on the wire rack. Enjoy with butter, date pasta, or as is!
Chicken Date Arugula Salad Pita
Ingredients
4 Multigrain Pitas
10 ounce cooked and shredded skinless chicken breast or canned chicken breast
½ cup crushed walnuts
4 cups arugula
2 Tbsp Olive oil
1/2 Tbsp lemon juice
2 Tbsp grated parmesan
Pinch of salt
½ Tsp ground black pepper
½ cup dates, pitted and chopped
½ cup sundried tomatoes in oil
½ Tbsp dried parsley
3 Tbsp plain nonfat Greek yogurt
Directions
In a blender or food processor, add arugula, walnuts, oil, parmesan, lemon juice, salt, and pepper. Puree until well mixed.
Place the mixture in a bowl and fold in the chicken, sun-dried tomatoes, parsley, yogurt, and dates.
Place ¼ of the mixture into each pita with fresh arugula. Enjoy immediately. Chicken salad mixture can last up to 3 days refrigerated when covered tightly.
---
References: