Dietitian Approved Healthy Holiday Recipes
The holidays are a great time to enjoy your favorite sweet treats and indulgent dishes while also being mindful and creating a healthy balance.
Natural Delights® Medjool dates are the perfect sugar replacement and can be a delicious ingredient to naturally sweeten cookies, pies, truffles, and more. With 16 essential vitamins and minerals, including carbohydrates, fiber, and potassium, you can feel good about adding dates to your holiday spread. Date syrup & date paste are a 1:1 replacement for sugar in any recipe (adjust liquids as needed for the recipe you are making)!
Whether you use them whole or turn them into date syrup or date paste, dates make it easy to swap out all or part of the traditional sugar found in your favorite holiday recipes. Read on for 15+ festive recipes to try out this holiday season. These recipes all include dates, date syrup, or date paste as a natural sweetener and sugar alternative and are dietitian-approved! Dates can be found in the fresh produce section of the grocery store!
Small Bites & Bars
Thin Mint Date Protein Balls
If you're a fan of the thin mint cookie classic, you'll love this recipe spin-off. Simply blend together protein-packed cashews, fiber-filled dates, cocoa powder, and peppermint extract. Perfect to get you in the holiday spirit! This recipe is by Lara Clevenger MSH, RDN, CPT. Recipe linked here!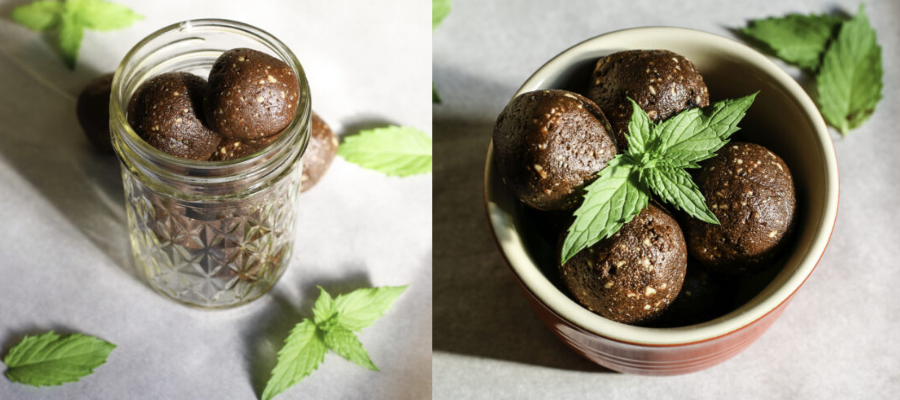 Gingerbread Granola Bars
These homemade gingerbread granola bars are such a great holiday snack! Plus, you'll save money by making your own bars at home. Filled with warm holiday spices and nourishing ingredients–these bars are sure to satisfy! Recipe by Kara Lydon, RD of The Foodie Dietitian Blog. Recipe linked here.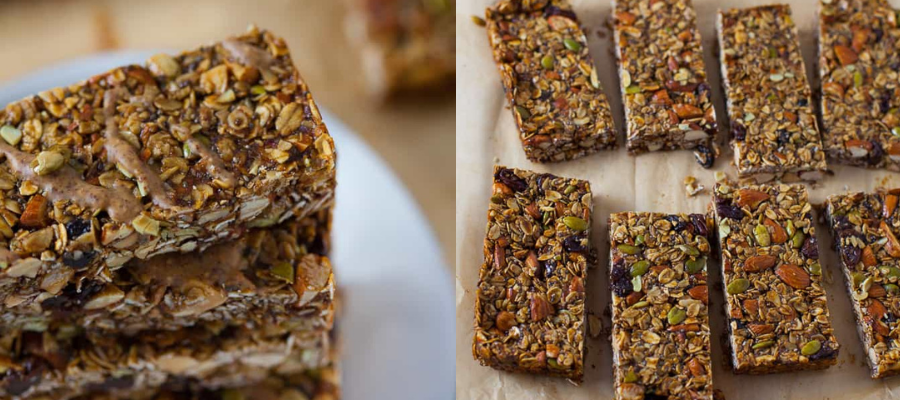 Holiday Spiced Nuts
This recipe calls for just 5 simple ingredients including pecans, dates, and spices. Did you know pecans have one of the highest antioxidant content among all nuts? This is helpful for protecting the cells in our body from damage. Recipe by Laura Yautz, RDN. Recipe linked here.
Homemade Protein Bars
These protein bars are filled with wholesome ingredients like coconut flakes, collagen peptides, and dates. Blending in dates helps everything stick together and provides natural sweetness. Perfect to pack for an afternoon snack! Recipe by Jodi Danen, RDN. Recipe linked here.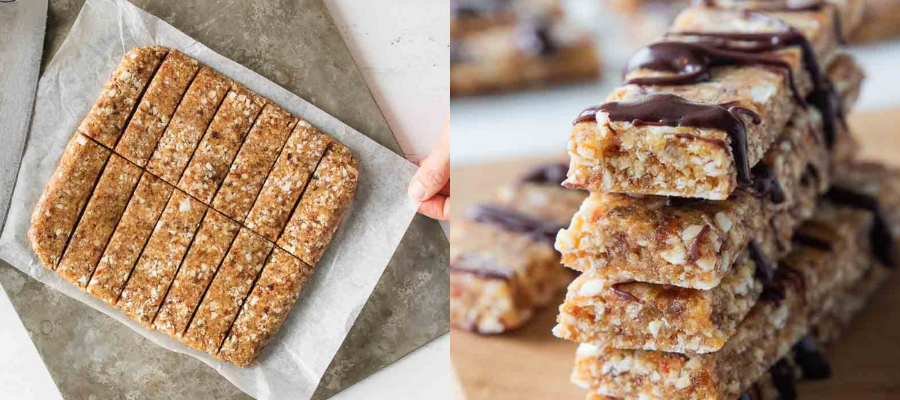 Chocolate Date Bites
Date and cocoa are a match made in heaven. Cocoa powder is also a great source of important nutrients like iron, zinc, and magnesium. For this recipe, all you need is one bowl and 5 minutes of your time. Try making these date bites today! Recipe by Dixya Bhattarai, RD of the Food, Please, & Health blog. Recipe linked here.
Nut Butter Stuffed Dates
Looking for a sweet snack or party appetizer that comes together in less than 5 minutes? Try these nut butter stuffed dates you can customize with any toppings of your choice like pomegranate seeds, chocolate chips, or coconut flakes. Recipe by Mackenzie Burgess, RDN of Cheerful Choices. Recipe linked here.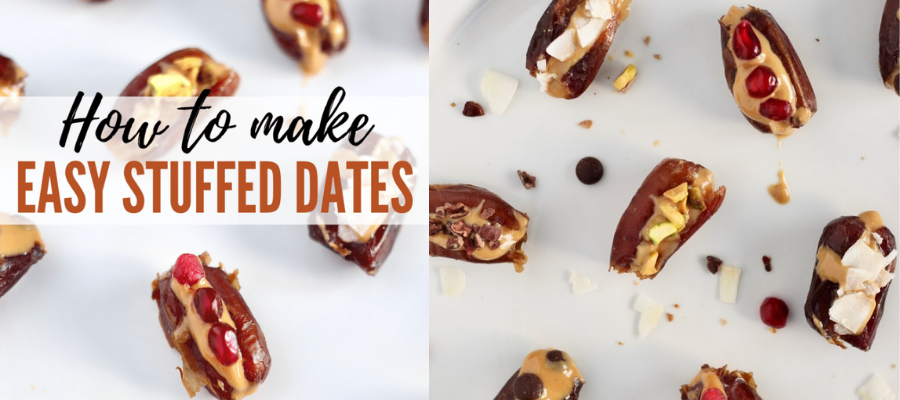 5 Ingredient Chocolate Coconut Date Balls
With just 6 wholesome ingredients–you can't go wrong with these coconut date balls. Simply blend together everything in a food processor, roll into bites, and enjoy. Take on the go for breakfast or re-energize as a mid-afternoon snack. Recipe by Claire Carlton, MS, RD of Nourish with Claire. Recipe linked here.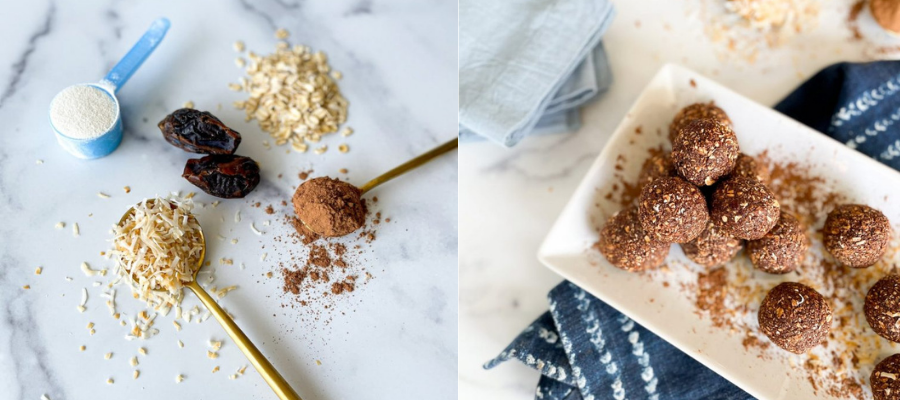 Festive Breakfast Ideas
Maple Pecan Granola
Don't skip out on breakfast during the holiday season–it can help you feel more energized throughout the day. For an easy breakfast, try making your own festive holiday parfaits with yogurt, fruit, and this maple pecan granola. This granola is filled with rolled oats, chopped dates, and quinoa for extra crunch. Recipe by Katie Pfeffer-Scanlan MS, RD of One Hungry Bunny blog. Recipe linked here.
Holiday Butters
Holiday butters are ideal to spread over morning toast or add to an Insta-worthy charcuterie board. Instead of sweetening with brown sugar, this recipe simmers down Natural Delights Medjool dates. Choose any flavor you like best–Pumpkin Spice, Dark Chocolate Hazelnut, or Apple Butter! Recipe linked here.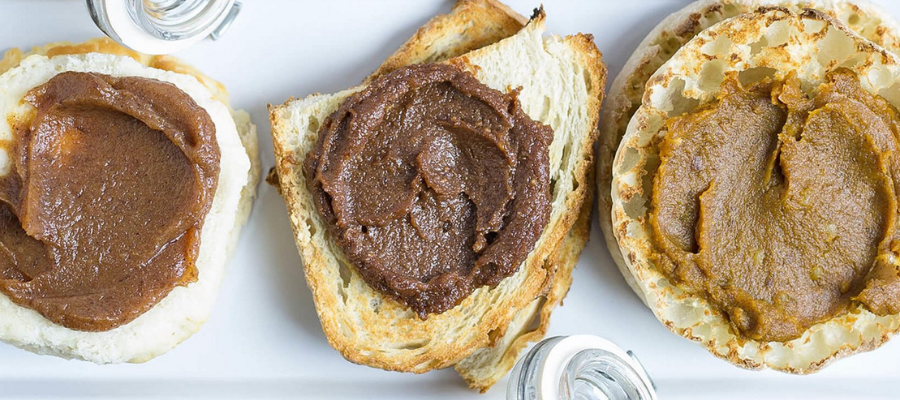 Healthy Cinnamon Rolls
Cinnamon rolls are classic holiday comfort food. This recipe lightens up this indulgent sweet with simple swaps like an almond flour dough, Medjool date filling, and greek yogurt frosting. Recipe by Kelli Shallal, MPH, RD with the Hungry Hobby blog. Recipe linked here.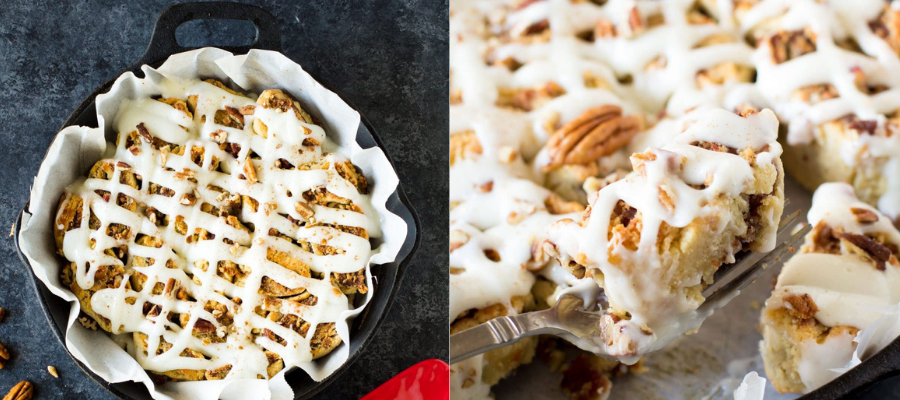 Sweet Treats
Espresso Hazelnut Date Truffles
These truffles taste just as indulgent as regular truffles while decreasing the added sugars and saturated fats. They're filled with antioxidant-rich cocoa powder, hazelnuts, and Medjool dates. Bring these delicious dessert bites to your next holiday party! Recipe linked here.
Vegan Oatmeal Cookies
These cookies are made of 100% whole grain oats and whole wheat flour. This is beneficial because, as the name suggests, these ingredients contain all parts of the grain providing extra fiber and B vitamins. Try dipping these cookies in chocolate and topping with festive sprinkles for the holidays! Recipe by Leanne Ray, MS, RDN of Healthyish Appetite. Recipe linked here.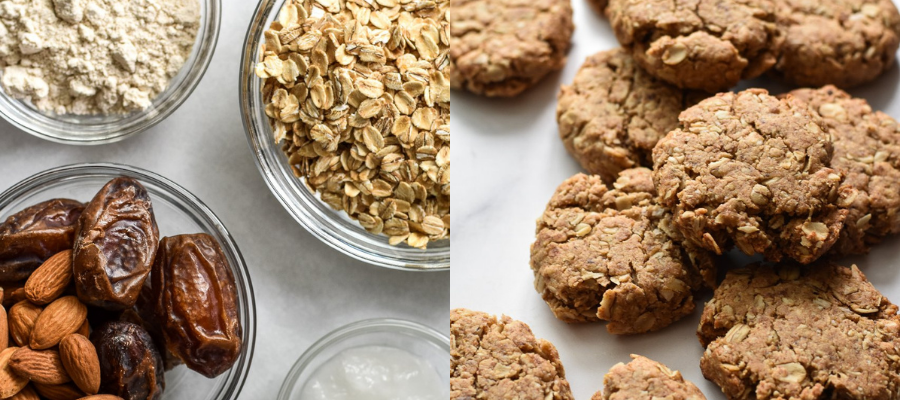 No-Bake Vegan Chocolate Peppermint Cheesecake Cups
There's nothing worse than scrambling to put together a last-minute dessert for the holidays. Instead, whip up these no-bake cheesecake cups and store them in the freezer until you're ready to serve. Plus, they're vegan and gluten-free to fit all different dietary preferences! Recipe by Elysia Cartlidge, MAN, RD of Haute & Healthy Living. Recipe linked here.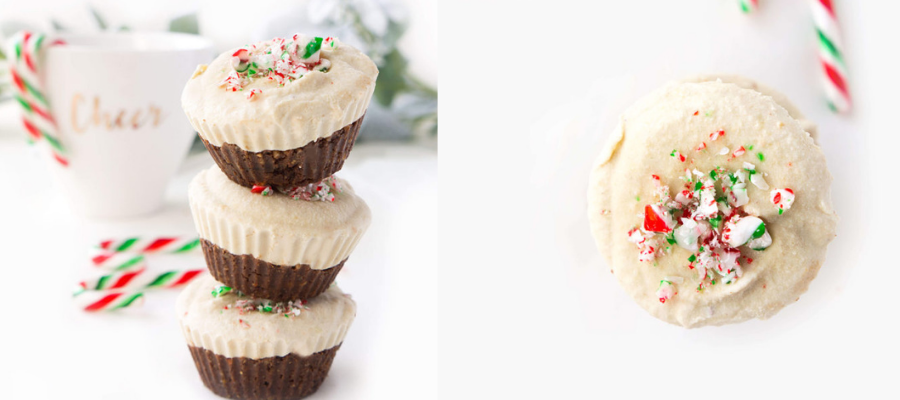 Vegan Samoa Cookies
Are you a Samoa girls scout cookie lover? Try making this healthier version filled with almond flour, toasted coconut, date caramel, and dark chocolate. These cookies are plant-based and gluten-free too! Recipe by Le Petit Eats. Recipe linked here.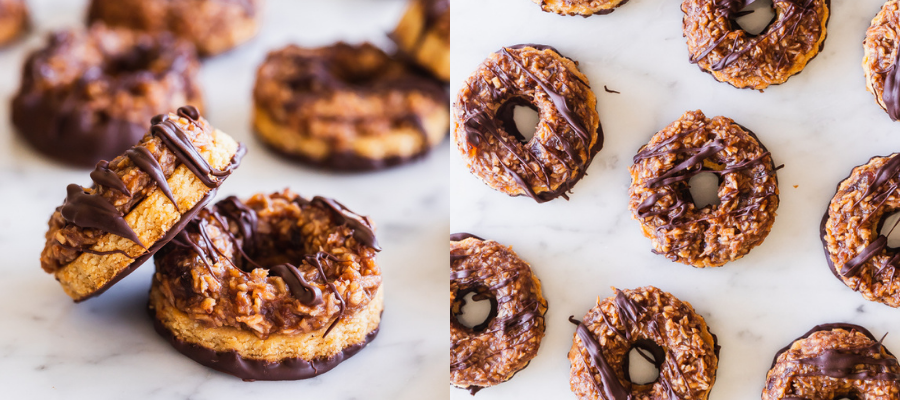 Gingerbread Snoballs
These gingerbread bites contain no added sugars, instead, they are sweetened with Medjool dates and warm spices. These ingredients are full of health benefits too. Dates contain anti-inflammatory properties, making them a heart-healthy choice. Spices like ground ginger and cloves may contribute to health benefits like lowering blood sugar and boosting your energy. Recipe by Colleen Wysocki-Woods, MS, RDN of ZEST Nutrition. Recipe linked here.
Avocado Chocolate Pudding
This avocado pudding is as simple as whipping up 4 ingredients in a blender. Perfect to satisfy that chocolate craving. Try topping with fresh raspberries or whipped cream for an extra kick of sweetness. Recipe by Jinan Banna Ph.D., RD. Recipe linked here.
Gingerbread Cookies
These gingerbread cookies are a classic way to celebrate the holidays without all the unwanted processed sugar. They have just the right amount of spices and sweetness. For this recipe, we're swapping brown sugar with date syrup and date paste made from Natural Delights Medjool dates. Grab the recipe here!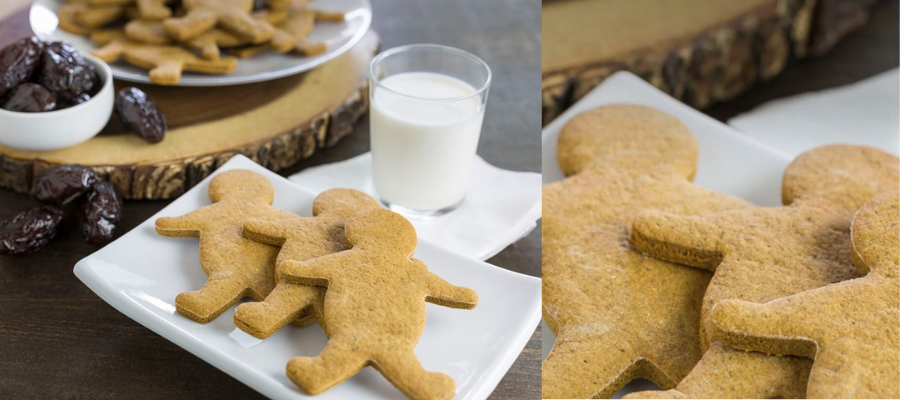 Save these healthier snacks and sweets recipes to try over the holiday season. Remember to find a balance between choosing nutritious swaps and giving yourself permission to fully enjoy indulgent treats.

You can find more Medjool dates recipe inspiration here too!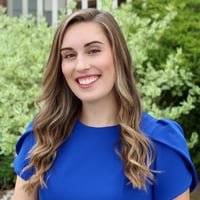 Mackenzie Burgess, RDN of TheRDLink.com
Mackenzie Burgess is a registered dietitian and recipe developer in the Denver area. She focuses on customizable recipes with ingredients of your choice. She regularly appears on digital and broadcast media sharing quick meals and kitchen hacks.